Here at Chingford Dental Laboratories we use only the best products and materials to produce the highest quality dental devices. We pride ourselves on our quality control to ensure appliances that leave the laboratory are to a standard we ourselves would be happy to wear.
We offer the following range of products:
Prosthetics:
We offer denture bases in Acrylic, High Impact Acrylic, Chrome Cobalt and Valplast™
We can also provide darker pigmented acrylic, along with clear palates, soft linings, a range of clasps and 'Dental D' tooth coloured clasps.

We stock different ranges of teeth to suit your patient's requirements, including Dentacryl HXL, Cosmo HXL and SR Vivodent PE. Other brands such as Senator and Heraeus are also available.
Crown and Bridge
We offer a full range of crown and bridge services including bonded crowns, metal crowns, maryland bridges, composite inlays and veneers.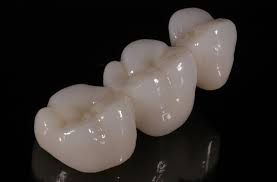 Our Crowns can be made in precious or non-precious metal as required.
We also offer all porcelain Zirconia crowns for your discerning private patient.
In lab shade taking is also available by arrangement with our fully insured, experienced technician.

Sports Shields and Bite Appliances
Our Sports/Gum shields are available in standard clear plastic or in any colour, design or motif of your patients choosing.
We also make soft and dual laminated BRA, hard acrylic splints, bleaching trays and Essix Retainers.

Orthodontics
We offer removable and functional orthodontic appliances, as well as aligners and retainers.